At Tealayas, we don't want to be just a tea brand on your kitchen shelf. We aim to provide you with an experience. An experience that is as homely as a cup of tea and as pure as the Himalayas.
Tealayas is a brand which is born out of our love for a nice evening cup of tea with the surreal feeling of being in the great Himalayas. Situated in the Doon Valley, we have a strong and close connection with tea gardens, rivers, rivulets, forests, and mountains.
So, allow us to share this experience with you over a cup of tea…
Highest Quality & Raw Taste

We source our tea blends directly from the farms across India, Nepal, and Japan to provide you with the absolute best.

Hand Picked Blends

We are not here to sell tea, we are here to sell an experience. Only carefully handpicked gourmet and classic blends just for you.

Recyclable Packaging

Our blends come to you in a beautiful dome shaped can which you can use to store your masalas, condiments, or just plant a seed in it.

No Additives

One of core value is to provide you with an experience which is as raw and pure as the Himalayas, without any additives.

0% Plastic Initiative

We love our mountains and want to keep them plastic free. As a brand we are pushing to make our packaging and shipping plastic free.

People Over Profit

As a brand, we aim to always keep our people above the profits. Be it our farmers, colleagues or you the customers.
Honestly, our story began with a cup of tea in hand while gazing at the clouds over the Mussoorie mountains on a rainy evening of 2020.  When the whole world was brought to a standstill and every one was left gasping for breath, we understood the importance of the purity of the mountains. We longed the fresh air, the aroma of the wild flowers, sparkling water streams and just the feeling of the mountains with that cup of tea. It all seemed too surreal and too perfect.  This is how Tealayas came to be. We understood that not everyone has the luxury of being in the mountains, so we wanted to take the mountains closer to them… to you..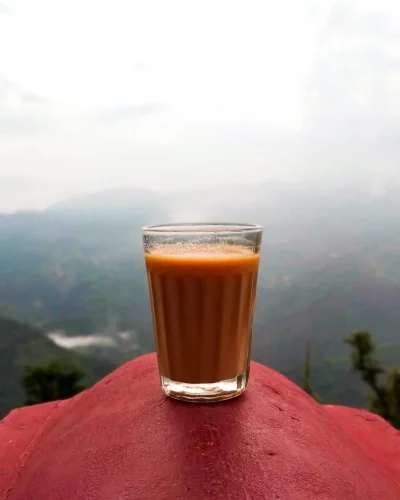 A
Tealayas

promise

to all the tea lovers..
We solemnly swear that we are trying to brew magic.
We, at Tealayas, are working endlessly to bring you the most exhilarating experience possible in a tea cup. We understand that replicating a feeling so overwhelming is difficult, but we will strive to give you the best of the ingredients, the finest of blends and the purest of the experiences.
See you at the mountains.